Bathroom Refurbishment, Bespoke Design and Installation Company in London & Surrounding Counties
"A Bath Refreshes The Body"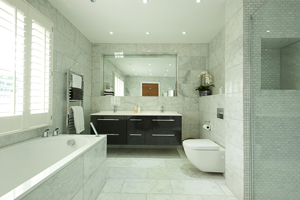 They say a nice hot bath will refresh the body, if that's the case then imagine taking that lovely bath in a fully refurbished bathroom? This will not only refresh your body but your mind and soul too, for you and the whole family. When talking about bathrooms it's amazing how much time we spend in there (no pun intended). It's the first room you visit in the morning and the last room you visit at night and our research has shown that when starting your day in a run-down bathroom it has a slight impact on your day ahead. When you enter your bathroom first thing in the morning you want to be able to carry out your daily bathroom routine in a pleasant and efficient way, and once you've finished you'd like to leave feeling fully awake and ready to take on the day. If your bathroom is in need of a makeover and you feel like so much more can be done you will have these thoughts in your head throughout the day and when you return in the evening before bedtime you are reminded about these imperfections and the cycle continues. So a bathroom refurbishment will not only make you enjoy using the bathroom more but may help you have a brighter outlook on life throughout the day.
Taking the plunge and deciding to refurbish your bathroom can be a very daunting prospect especially if you have no experience in doing this before: Expert Crew are here to help. We have an experienced bathroom team that can reconfigure and layout your bathroom to get the most out of your space, our installer will remove your old bathroom and fit your new one in a professional and timely manner. With years of experience in bathroom makeovers we are positive you will be pleased with our work as so many of our previous clients are today. In recent years we have undertaken many projects such as family, en-suite and commercial bathroom refurbishments and have mainly been situated in London (including North, West, South & East London), Essex, Surrey, Kent and Suffolk. Click on an image below then use the arrows to navigate your way through our gallery.
Bathroom Refurbishment projects in London & Suffolk
Some of latest projects include:
Expert Crew have a highly skilled and experienced workforce of plumbers, tilers and electricians ensuring that your work will be done to a high standard. A bathroom sees a huge amount of daily use and the quality of the workmanship of any installer has to be of a high standard to ensure longevity. Expert Crew are positive you will be pleased with the work and enjoy the experience of your new bathroom because we know is a very important part of any house or home.
Contact us for a free quote or advice
We are a bathroom installation company in London