Kitchen Refurbishment, Bespoke Kitchen Design & Installation
"The Kitchen is the heart of a home"
A Kitchen Refurbishment can help you fall in love your house again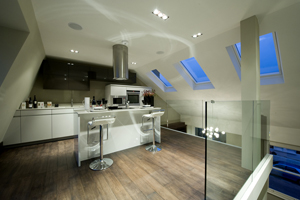 Some people say that the kitchen is the heart of a home and at The Expert Crew we strongly believe that it is the most important room in a house. It's where you prepare and eat your daily meals, have a catch up and a cup of tea with friends and family, watch TV or read. It's the busiest room in the house and if your kitchen is in need of a makeover or you are unhappy with the layout and design then these experiences may not be as enjoyable for you.
If you feel that your kitchen is not quite living up to your expectations our design team will work with you to maximise the potential of what your space offers so you get the best results in an affordable and professional way. We will look closely into what you and your family needs and suggest ideas that are simple and effective to improve the fluidity of your kitchen or innovative and new to give your kitchen that "wow" factor.
A slight reconfiguration of a kitchen can unlock an enormous amount of potential that you never knew you had, it will allow your kitchen to fit in with your households daily routine and The Expert Crew will do this in a personally tailored way, just for you. A new kitchen will give your house a new lease of life and let you fall back in love your with home again. All you need to do is allow us the opportunity to visit you for a free no obligation quote so we can talk through what you want, we can suggest ideas and tell what we can do for you and if you are happy with our competitive prices our experienced and skilled team will fulfil the job in a timely manner.
A kitchen sees a huge amount of usage in it's lifetime, from the tiles on the floor to the kitchen cupboards and draws. The kitchen is the most used room in the house therefore it's the most important and the fact that you are looking at this page means you agree. Click on any of the Kitchen Refurbishment images below then navigate with the arrows to view them all, you can see that we have a high quality and standard to our work. Expert Crew have undertaken Kitchen Refurbishment and Bespoke Kitchen Designs and Installation projects all over London (including North, West, South & East London) and the Surrounding Counties including Essex, Kent, Hertfordshire and Surrey. All our kitchen refurbishments are done with the notion that you are only as good as your last project that's why each and every Kitchen Refurbishment, Bespoke Kitchen Design and Installation we do is top class, we take pride in our work each and every time.
Kitchen Refurbishment Projects in London, Essex, Kent and Surrey
Some of latest projects include:
Expert Crew's highly skilled Kitchen Refurbishment specialists are skilled in carpentry, tiling and plumbing to ensure your Kitchen Refurbishment is done to perfection. Our team will see out the Kitchen Refurbishment from start to finish - from Bespoke Kitchen Design to Kitchen Installation and ensure you will be more than happy with your Kitchen Refurbishment. We have our very own kitchen manufacturer here in the UK and have the ability to design any style of Bespoke Kitchen you desire. Whether it's a small kitchen refurbishment or a large house renovation we can cater for all your needs.
Contact us for advice or a free quote.
Click for OUR GUIDE TO A NEW KITCHEN article